Oscar Robertson
Founder and President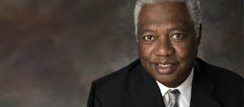 The skills and drive that are inherent in a person who becomes the greatest basketball player are also key in building a reputation as a successful entrepreneur and advocate for small and minority-owned businesses.
During his professional sports career spanning 14 years, Oscar Robertson, known as "Big O," was hailed as basketball's "most complete player." A Hall of Fame basketball player and named as one of the five greatest players of all time by the National Basketball Association (NBA), he has also been commended throughout the years by sports experts and fans for influencing those who played with him to play at the top of their game as well.
During the 1961-62 season, Robertson averaged a "triple-double"––double figures in scoring, rebounding, and assists––for the entire NBA season of over 79 games averaging 30.8 points, 12.5 rebounds, and 11.4 assists per game. During his 14-year NBA career (ten with the Cincinnati Royals and four with the Milwaukee Bucks), Robertson led his teams to ten playoffs including an NBA championship with the Bucks in 1971.
Even before his professional career began, Robertson co-captained the 1960 undefeated U.S. Olympic Basketball Team, which won a gold medal. During his time at the University of Cincinnati where he earned the name "Big O," Robertson led the Bearcats to the Final Four twice. He was a three-time first-team All-American and the first player to lead the NCAA in scoring three straight years and to win National College Player of the Year honors three times.
His penchant for superb teamwork and leadership has spilled over into Robertson's 25 plus-year career in business, which affords him success with new enterprises that he starts. If a company is associated with the name Oscar Robertson, it stands for service, quality, and commitment––to its customers, its employees and its alliance partners. Robertson's business philosophy remains consistent.
Another company that Robertson owns in addition to Oscar Robertson Solutions is Oscar Robertson Foods, Inc. He is also on the boards of or an advisor to at least ten other companies.
In 2003, Robertson completed his memoirs, The Big O: My Life, My Times, My Game, which is published by Rodale Press. According to an editorial review on Amazon.com where the book is available, "While The Big O: My Life, My Times, My Game, will not disappoint basketball purists longing for Oscar Robertson's play-by-play of favorite games, the attraction of this autobiography is Robertson's perspective on the evolution of the sport and on the racial struggles that were the context of his formative years . . ."
The book's description on Amazon.com ends with, "It is the story of a man who revolutionized the game of basketball twice; once on the court and once in the way that the business of basketball is conducted. It is the story of how the NBA, as we now know it, was built. Of race in America in the second half of the twentieth century. Of a complex hero. An uncompromising man. It is Oscar Robertson's story."
Oscar Robertson is active in many charitable organizations and community efforts: the NBA Legends Foundation, NAACP, American Red Cross, American Cancer Society, HOME (Housing Opportunities Made Equal), Boys and Girls Clubs of America, the National Lupus Foundation, and the National Kidney Foundation. At their 2001 All Sports Hall of Fame Dinner, the Boys Club of New York presented Robertson with The Boys Club of New York Northrup Award. The award is given to "that individual whose qualities of leadership, love of sports, community involvement and personal friendship have served as an inspirational guide to young people everywhere."
Tia Robertson
Vice-President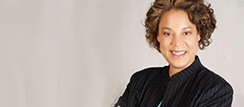 Tia Robertson is Executive Vice President of Oscar Robertson Solutions. Tia has helped to grow the company into an innovative facilities, document, and knowledge management company. Tia has twelve years of solid sales, marketing, operational, and financial experience gained as she progressed through various positions of increasing responsibility within the company. Tia has worked with two Fortune 500 companies: Merrill Lynch, Pierce, Fenner and Smith (Merrill Lynch) in Somerset, NJ, and the National Association of Securities Dealers (NASD) in New York, NY.
Tia received her B.S. in Finance from the University of Arizona in Tucson, Arizona and is a graduate of Leadership Cincinnati. She is also a graduate of the Kellogg School of Management (Minority Development Program).
Tia also serves on the Board of Directors of The Yvonne and Oscar Robertson Family Foundation of the Greater Cincinnati Foundation. Ms. Robertson was also the Director of the Oscar Robertson Celebrity Golf Tournament.
Questions about any of our services?
Call us today for an assessment of your information lifecycle efficiency and cost effectiveness, with special care for your team's ability to do their work without interruption.  If solutions save money on paper, but make those on the front lines less efficient or effective, we have not done our job.