Tia Robertson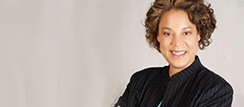 Tia Robertson is Executive Vice President of Oscar Robertson Solutions. Tia has helped to grow the company into an innovative facilities, document, and knowledge management company. Tia has twelve years of solid sales, marketing, operational, and financial experience gained as she progressed through various positions of increasing responsibility within the company. Tia has worked with two Fortune 500 companies: Merrill Lynch, Pierce, Fenner and Smith (Merrill Lynch) in Somerset, NJ, and the National Association of Securities Dealers (NASD) in New York, NY.
Tia received her B.S. in Finance from the University of Arizona in Tucson, Arizona and is a graduate of Leadership Cincinnati. She is also a graduate of the Kellogg School of Management (Minority Development Program).
Tia also serves on the Board of Directors of The Yvonne and Oscar Robertson Family Foundation of the Greater Cincinnati Foundation. Ms. Robertson was also the Director of the Oscar Robertson Celebrity Golf Tournament.
Questions about any of our services?
Call us today for an assessment of your information lifecycle efficiency and cost effectiveness, with special care for your team's ability to do their work without interruption.  If solutions save money on paper, but make those on the front lines less efficient or effective, we have not done our job.